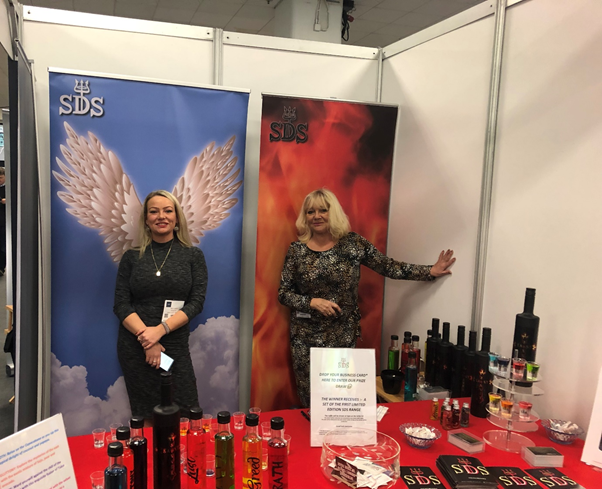 The Morning of 5 February was met with some anxiousness by us at SDS.
Today we were exhibiting at PUB19 at London Olympia.
This was our first trade fair and to be honest we did not have a clue what it was going be like.
The previous evening, we had set up and compared to many of the other exhibitors we were concerned that we were a bit basic, a table, a table cloth some banners did not look like much so you may understand our worries. We then realized we did not have enough drinks!! Fortunately, a mad and a heroic dash back by Kelly Giles, in severe weather conditions, to Bristol solved that problem. Phew!!
So, at 8am we arrived to fine tune our stand and start pouring the samples. We figured 10 of each would be enough to keep things going.
Then 10am came around and the doors opened to the trade. No turning back now. By 11 we were really worried hardly anyone had come around. Enter the inimitable June Gainford.
With her patter and sparkling personality, she pulled the crowds in. By midday the first samples were all gone, and we had our hands full just trying to keep up with the demand.
The next day and half passed in blur, meeting great people both visiting and exhibiting, having good, fruitful, conversations and trying to ignore our tired feet.
By the end of the show we had over 150 new contacts ranging from small boutique bars to large conglomerates. It simply exceeded our hopes and expectations beyond belief.
And to put the icing on the cake we were selected as one of the top 20 exhibitors from over 200 by Food and Drinks Matters magazine!!
Not too bad for a first timer. Guess when we worried, we had forgotten two things. our incredible passion for our business and the indisputable star of the show… our fantastic range of drinks.